This past week we decided that we needed a vacation before school started. We get to travel lots of places, but most times we are too busy to actually see any of the fun things the areas have to offer. And as David said, if you work all the time and don't go on vacation, what is the point of all the work?


I haven't been to Yellowstone since I was probably in middle school, (I think my family went the year after the big fire) and none of my kids have ever been. So, we decided to go there. We were in Grace last weekend and Pyper and I had to go to Pocatello for something. Along the way, she spotted Lava Hot Springs. She told everyone that we needed to go there as well. So, Monday night we headed off to Lava and the KOA there. (My kids could just vacation at a KOA and be perfectly happy!) We played in the river, roasted some marshmallows and Starbursts, made s'mores, visited with our Canadian neighbors (which became the joke of our trip, they were EVERYWHERE!), and went swimming and sat in the hot pots. It was a beautiful RV park, close to the river and shady. We are some delicious Thai food our second night, and surprisingly everyone loved it! I have a couple of picky eaters, *cough, Seth &Lyra, cough*, so that was surprising.
Pyper was very intent on making the perfect marshmallow.
My Bug is a bit of a spaz.
Seth roasted half a bag of Starbursts I think!
Then on Wednesday, we headed off to the KOA in West Yellowstone. It was later when we got there, so the kids went swimming while I made dinner. Then we made more s'mores and called it a night. Thursday morning we headed off to see the park. Everyone felt the need to hug a tree. (No picture of my tree hugging.)
This is probably the ONLY time I will ever see him be a "tree hugger"!
Pyper said that this particular tree looked lonely and really needed a hug.
Hannah tried smootching her tree. It was too bumpy she said.
My Bug hugging her tree, we had to pry her off. I think she named it Bob.
Actually, Seth hugged two, his first one was covered with red ants, so he only hugged it for a millisecond!
Seth and the non-ant covered tree.
We decided that since we just had one day, we'd go see Old Faithful. We took the drive to see Firehole Falls along the way.
Some of us, Hannah and David, didn't like it very much. They don't do well with roads along cliffs. And Pyper was flabbergasted that the "Guardrail Safety Crew" had seemingly missed the entire Yellowstone Park! "Mom, those lava rocks are NOT going to stop us from crashing over the edge! Where are the guardrails?"
We stopped and saw some hot pots and mud pots.
Pyper needed a picture with this hot pot. Actually, she needed a picture with everything we saw!
The mud pots are my favorite. I put on my best duck face for my picture.
We got to see Old Faithful erupt.
Pyper got her picture taken on front of it...
and so did David and I.
We had lunch in the Cafeteria, then we walked the loop of geysers behind Old Faithful. I don't know if we never did that when I was younger, or if I was just oblivious (probably the latter), but I never knew there were more geysers there! My favorite was a small one called Anemone Geyser. It only went about 6 feet, but it erupted every 7 minutes or so, and you got to seed the entire geyser process because it was so small...from the empty bowl, to eruption, to the bowl draining. I thought I had a picture of it, but I guess not. So, I scoured Google and found one for you!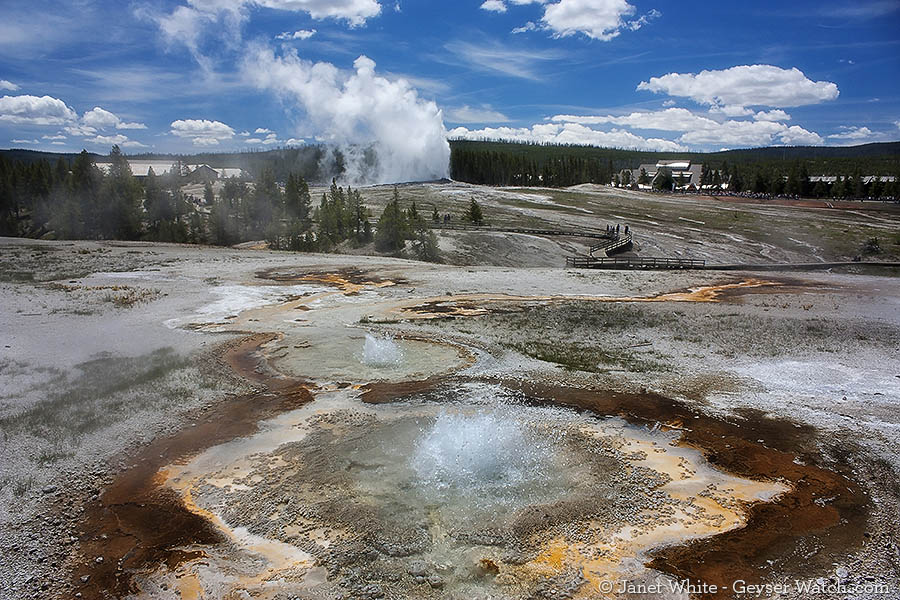 We saw this little cave and waterfall made from the geyser runoff and thought it was neat.
Everyone else thought
Castle Geyser
was the best. We didn't get to see it erupt, we just missed it. But we were all impressed with its "cone"! They say that it is probably the oldest geyser in Yellowstone.
I apparently didn't take a picture of it either, so I "borrowed" one from the world wide web...
After our very long walk, we were all very tired. We headed back to camp for dinner and, you guessed it, more s'mores.


This morning while David and I packed up, the kids rented the funny bikes. I think this is their favorite part of a KOA, and they'd been trying since Wednesday night to ride them with no success. They rode around the campground trying to steal each other's flags off the backs of the bikes.
Pyper started with this bike, but switched because it "was dumb and had no brakes!"
On or way back to work, we stopped at Bear World. It was pretty cool, but a bit overpriced for me. Seriously, $75 for a 20 minute drive? Neat to see once, but not something I'll make a habit of. The baby cubs were fun to watch, and the petting zoo was fun.
The very best part was this little goat who kept hanging out by the food vending machine. We tried feeding her, but she wouldn't eat out of or hands. She was more interested in the food in the bottom of the vending machine. Hannah stuck a few pellets inside and she opened the flap and ate them! The same ones she wouldn't eat from Hannah's hand. So we made her day and put in a quarter and twisted the handle and let her eat the food...OK, we did that twice actually because we found her so funny!
I got a picture of all my cute bear cubs. (This picture was Pyper's idea as well! It HAD to happen!)
And these ducks ate right out of your hand.
We rode a few rides...
Bugga and Pyper on the "Grapes"
Hannah and Seth on the Beary Go Round. They eventually all ended up in here for this ride.
and then piled back in the car and off we went!
Now I guess most of us are ready to head home reluctantly, and start school.